The "Spinout" is a patented paint roller cleaning system that has been around for only a few short years. Starting out on the West Coast, a quick and easy way to clean paint rollers was the basic idea behind our product. The main difference today is the ease of ordering. The Internet has made it easier for us to get our message regarding this great product to you.
Today, "The Spinout" is being remanufactured on the East Coast, but the nationwide distribution affords everyone in every state across the USA the same availability. Good for us, lucky for you. Our email address steve@spinoutusa.com allows us to communicate with customers like you —anytime,
anywhere. Very soon, there won't be a couple of thousand Spinouts in use, there will be a couple of million. "Join the crowd!!"
Get your own Paint Roller Cleaner The quick and easy way to clean paint rollers! Buy now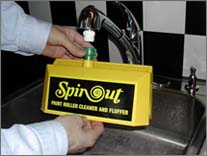 1. Connect The Spinout to a garden hose or a sink faucet using the special adapter.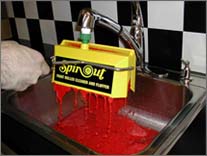 2. Insert your paint roller into the jet-stream of water inside The Spinout.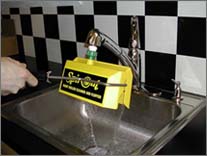 3. Remove the paint roller once you see the water running clear.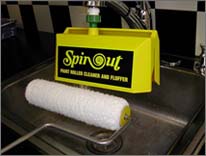 4. When the "Spinning" stops, you are ready for your next paint application.